Limited alternative sites
The only other existing safe small-craft launch facilities on the Atlantic coast within commuting distance of Cape Town and environs are located at Hout Bay and Yzerfontein. Due to their distance (15Nm and 45Nm respectively) from the City, they are clearly unsuitable for boat owners living in the City, northern and southern suburbs.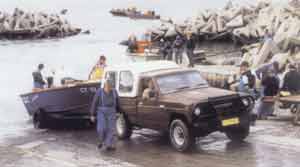 Studies indicate Granger Bay as the ideal small-craft area
Studies carried out by the CSIR, and by the then South African Rail & Harbours Langlaagte Laboratories, have shown the most suitable launching zone in the Cape Town area for all small-craft to be at Granger Bay.
Proposed alternative sites declared unsafe
Wind-direction information supplied by the CSIR indicates the influence of the notorious southeaster - a phenomenon that plagues small-craft boaters for six months of the year.
Coupled to the adverse wind conditions is the fact that all proposed alternative sites offered by the V&A Waterfront would require small craft to negotiate commercial shipping lanes - a concept deemed undesirable as early as 1982.